We know how much easier it makes it when using a Google Certified TV Box. All Official streaming apps are supported and I love Android TV OS. So let's explain what a Google Certified TV Box is.
Google Certified TV Box
There are thousands of different models of Android Boxes floating around the web, and a lot of them are great. But what is a Google Certified TV Box?
Below we will list the various differences between using Official Android TV boxes as a pose to boxes which aren't supported.
Streaming Apps
This is a major topic when it comes to purchasing an Android TV Box. Most Android Boxes don't support HD Netflix or Prime Video HD. Now a lot of you may think, well I don't want an Android Box for using these applications. In that case this point isn't relevant to you. But most of us have either a Netflix Account or Amazon Prime, which makes it a no brainer to use those services on our Android TV Devices. You may also find on random Android Boxes that YouTube force closes or doesn't playback the best resolution.
Google Certified TV Boxes are the only ones really which fully support the Android TV Versions of both HD Netflix and Prime Video. So when using a Nvidia Shield TV or a Xiaomi Mi Box S you know you will be able to stream in the highest resolution.
You will find when trying to use the apps on none certified boxes that they are in-fact mobile versions. Meaning the video resolution is limited to 480p, which is much lower than the preferred 1080p.
So if you use Netflix, Prime Video, Hulu, etc, you will 100% want to go for a Google Certified TV Box.
Chromecast Built-in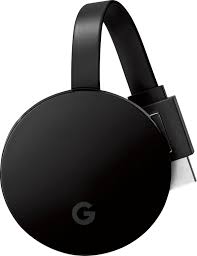 Google Chromecast is a device used to cast devices to your TV (such as mobile phones & tablets). Google Certified TV Boxes come with Chromecast built in which is an awesome feature and in some cases a huge selling point.
Chromecast pricing ranges anything from £20 to as much as £59.99. The cheaper device supporting upto 1080p and the Chromecast 2 supporting 4k playback.
So if you watch a lot of content on your mobile phone and would like to stream in great quality to your TV. Then this is going to be one feature that will greatly benefit you.
Official Android TV OS
There's no mistaking Android TV is my favorite launcher out of them all. It looks clean, easy to use and also customizable. Meaning you can change what is shown on the Home Screen and where.
The Top Row
This is where you can add and remove apps that you use most frequently. Simply by clicking the plus icon and adding the app you'd like on there. To remove it's as simple as long holding on an icon and clicking remove from favourites.
Customizing Other Rows
All rows beneath can be moved up and down, Changed to show different content or removed. This is great if you use Netflix, YouTube, BBC iPlayer etc. It speeds up the process of seeing relevant content showing in that app.
Google Play Store for Android TV
This is going to make your life so much easier when it comes to using the Google Play Store on Android Box.
This is a store designed specifically for Google Certified TV Boxes only. Meaning that all apps are supported and can be used with the regular remote.
Navigation is also a huge relief as with non supported boxes it's a mobile play store. Meaning you can't navigate with the remote and apps are mostly for touch screen devices. This creating another obstacle as you need a mouse feature to navigate those apps.
Device Updates
There's a reason a Google Certified TV Box lasts a lot longer than other devices. This is due to the updates which are done directly on the device. Most boxes don't have updates meaning they become outdated or bug fixes aren't fixed.
Both the Nvidia Shield TV and the Xiaomi Mi Box S both get updates and still run better than all other devices now. Even devices sold in 2015 which are Google Certified run better than most devices being released to this day.
Better Hardware
Google Certified Devices usually have better hardware than your regular Android Boxes. You know it's not been thrown together with odds and sods, it's a premium built device.
Google Certified Android TV Boxes
There are 2 that I recommend that are Official these are the Xiaomi Mi Box S and the Nvidia Shield TV. You can find them in the Let's Crack On SHOP in the Menu.
The Xiaomi Mi Box S is much cheaper than the Shield and runs fine with everything I throw at it. It supports all the things listed above and is a real clean looking device. At the moment it's just over £50, which is a steal for a Google Certified Android TV Box.
The Nvidia Shield TV is more when it comes into the high price tag category. In my opinion the Shield is more for the intensive stuff like Gaming. But even just as a streaming device this thing is a beast. But with the Shield TV Devices ranging from £150-£199, it is out of most peoples budget for a streaming device.
Android Boxes With Cracked Versions Of Android TV
One thing to note is you will find some devices which have the exact same layout, these including the KM3 & Km9. Although they look the same they aren't actually supported and are not Google Certified Devices. They have cracked versions of the Android TV OS and I have noticed that they no longer support the HD Netflix App.
What I Don't Like About Android TV
There is only one thing which I dislike, and that's the ability to add third party apps via web downloads. It seems Google are really cracking down and making it difficult to install third party apps. There are still ways to install via a web browser as shown on my YouTube Channel Free Tech, but you can see they are starting to make it harder. Although we can see this it's now actually much of an issue as it still works, you just need to do it a little different.