Reviews
Top 5 Streaming Devices 2020
When it comes to choosing the right Android TV Box or Firestick, you want to make sure you make the right decision. Choosing the wrong streaming device can end in huge disappointment. Let's look at the Top 5 Streaming Devices 2020!
Top 5 Streaming Devices 2020
This list of the top 5 streaming devices 2020 will be in price order, starting with the highest price first. I have tested many products and found that I would personally be happy with any of these in the list. So this is more showing which Android Box is the best for your budget. Most can be found in our Amazon Store.
---
---
1. Nvidia Shield TV ( £200 )
I'm sure if you are a streamer you will have heard of the Nvidia Shield TV, which really is the king of all Android TV Boxes and has to be on the top 5 streaming devices 2020. Now the Nvidia Shield Pro comes in at a high price around £200, but I personally own 2 and they are quality. There are a few reasons I would recommend the Nvidia Shield range.
The first is that the Shield TV has the Official Android TV OS. There are only a couple of devices on the market worth buying which have the Official Android setup and both are listed in this post. If you want to know the difference with official Android TV you can check out our Google Certified post. I think it's clean, easy to navigate and built for the box, whereas most Chinese boxes have a mobile phone launcher with support for remote navigation. It also means it gets regular updates which makes the Nvidia Shield future proof. I still own a 2017 version and it still works better than most devices I've tested that have been launched recently.
It's also worth noting this box supports 4k Netflix, Prime video, Hulu ETC. Only boxes with Official Android TV support these. Almost every other box only supports the mobile versions of the Apps and plays in 480p quality.
The Nvidia Shield has very good specs compared to it's competitors. Although 3gb RAM and 16gb Storage sounds low, it definitely handles everything you throw at it with ease. External storage can also be added to the Nvidia Shield Pro. You also have the option to play GForce Now and Steam games, which goes to show just how powerful it is.
If you are in the market to buy a high end, future proof Android TV Box then this would be a great option in my opinion. The Nvidia Shield Pro seems to be out of stock and has been for a while but you can look at the Nvidia Shield Tube version which is 25% cheaper but still has high end specs. You can watch our Review on YouTube for more info.
---
---
2. GT-KING Pro ( £95-£130 )
The GT-King Pro is 1 of the highest spec boxes you can get at the moment and is a popular alternative to the Nvidia Shield. Although nothing competes with the Shield, this box handles just about anything you can throw at it. You can check out our GT_King Pro YouTube Review for more info about the device. It also has a healthy 4gb RAM and 64gb Storage and external storage can be added.
You will see companies advertising this as an Android TV Box, but be aware that this doesn't mean it has the Android TV OS like the Nvidia Shield and the Xiaomi Mi Box S. That being said, it does have a pretty decent launcher that is easy to navigate. You can also add your own launcher if you would like a different look. You can find a few launchers in our Downloads Section.
With this box not being Google certified nor having the official Android TV OS, it means picture quality of Official Apps such as Netflix and Prime Video will be limited to 480p. This is because you will need to use the mobile version of the Apps for them to work. But when using other streaming Apps you will be ably to watch content in upto 4k.
As you will see if you check out our video review, this box is more than capable of smooth playback and gaming. In terms of Chinese Android TV boxes, the GT-King Pro is 1 to consider. From feedback I've seen, there are a lot of happy owners. Just make sure you buy the version which has the mouse function on the remote. Some sellers changed the remotes and removed the mouse feature but you will save a lot of hassle having the feature on there.
---
---
3. Xiaomi Mi Box S ( £55-£85 )
The Xiaomi Mi Box S is a great little box and also has Official Android TV OS. This means it has the same operating system as the Nvidia Shield and supports all updates, meaning the box is future proof.
With the box being Google certified, this means it supports official Apps suck as Netflix and Prime Video. The Xiaomi Mi Box S and the Nvidia Shield are the only 2 Android TV Boxes to support the official Netflix and Prime Video apps.
Once again the 2gb RAM and 16gb storage seem low, but this box does a great job for streaming. I wouldn't recommend it if you were looking to do gaming, but for streaming purposes it's brilliant.
You can go and check our Xiaomi Mi Box S Review to find out more info about the box. If you are looking for an Android TV Box which is Google certified but you don't want to spend the high price of the Nvidia Shield, this box is a great alternative.
---
---
4. Firestick 4K ( £49.99 )
The Firestick has always been a reliable device and the most popular device amongst streamers. For the price of £50 and regularly on offer for as low as £30 it's an absolute steal. Although it only as 1.5gb RAM and 8gb storage, do not be put off by that. It will ahndle almost any form of streaming you can throw at it and I've also found it runs games pretty nice too.
Although the Firestick 4K has a different OS, it does support the Official Netflix & Prime Video Apps. This makes it the only other option if you are wanting a device for streaming content in high quality from those Apps.
Some people don't like the Firestick layout, but this can be changed by installing a custom launcher. Then you can customise the Firestick appearance and get rid of the default look.
I really can't speak of this device highly enough as it has never let me down. The only real downfall is it can't run Apps that need to have Google Play on the device for them to work, such as Sky Go. But in reality, it's very rare you will find an App that's not compatible.
If you would like to know more about the Firestick 4K or see some useful tips and tricks, you can head over to our YouTube Channel where you will find most videos based around this device.
---
---
5. X96 Air ( £28-£43 )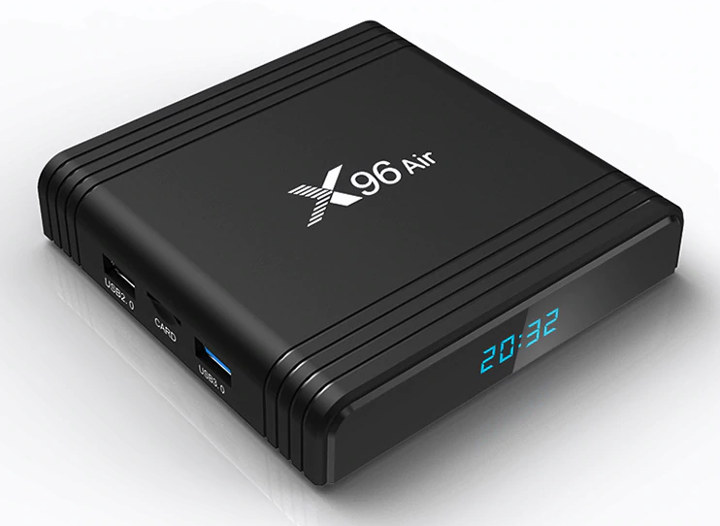 A super cheap box that really did surprise me. I was expecting it to be like most other budget Android TV Boxes and for it to perform very poorly with different tasks, but the X96 Air literally handled everything with ease. It looks like they may have skimped out on the looks on the box, but put the saved money into improving the specs. You can watch my full X96 Air Review on YouTube.
The X96 Air is a Chinese Android box so the launcher is pretty basic, but it's different which was refreshing. It is easy to navigate and very responsive and I personally liked it.
I tried different tasks on the box including gaming, which is 1 field where it surprised me. I expected it to show signs of lag, latency issues and stutters, but it played racing games with ease. I also found 4k video playback was super smooth which I did not expect.
The issue with cheaper boxes is a lot don't seem to support updates. Although there is an updater App 'preinstalled we haven't yet seen an update.
For the price of the X96 Air I don't think you will be disappointed if you got 1. There are 3 different prices, this is because the more you pay the more RAM & Storage is on the device.
---
---
Now there is always a difference in opinion when it comes to what's the best 5 streaming devices 2020. After testing endless devices this is my top 5 but be sure to comment with any other devices you would expect to see on this list.