Stream & Tech Now had 1 of the best Filelinked stores you could find and he was holding off while deciding which replacement to use. I think a lot of you will find this Stream and Tech NOW Unlinked store very useful!
Who is Stream & Tech Now
Stream & Tech Now is a YouTube creator who use to cover the same sort of content as myself, showing streaming apps that are now frowned upon by YouTube. But he also had 1 of the largest and most popular Filelinked stores and many of you have been holding off to see which replacement he decides to go for. Well now a Stream and Tech NOW Unlinked Store has been setup and I think a lot of you are going to like it. It will be updated regular as was his Filelinked store and will have all of the best and latest streaming apps.
When downloading 3rd party apps there is always a risk of what the apps contain. But it's been confirmed that all apps added and updated in the Stream and Tech NOW are scanned for any potential viruses or malicious code using Virus Total. But it's always recommended to use a VPN when using any unofficial app.
What Is Unlinked
I've covered a few different things on Unlinked recently showing how the app works and how you can install it. We have a dedicated section to the best Unlinked Codes 2021, or a codes section that shows the best stores for apps like Unlinked, FileSynced & Applinked.
A Look At The Unlinked Store
When entering the store code for Stream and Tech NOW Unlinked store, it will load and look like the image shown below.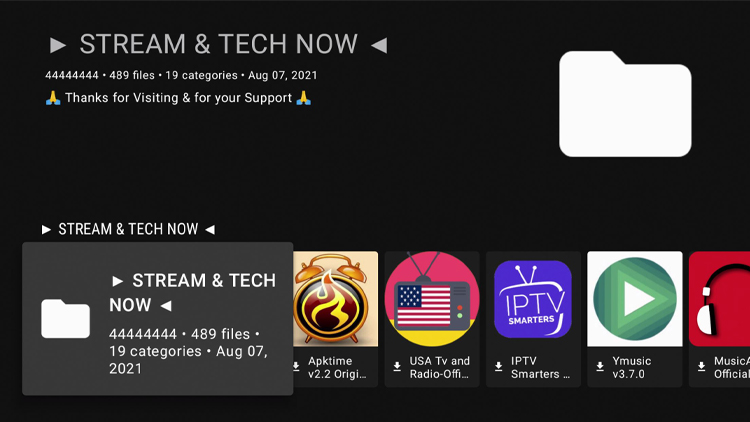 You can see from the folder that there are currently 489 apps which are also split into 19 different categories. With almost 500 downloads, this makes it possibly the biggest Unlinked store right now.
When clicking on the folder it will have all the apps along the top horizontally. You can also use the features above that allow you to search by name, rank, ascending order, etc.
What you can also do is scroll down and it will take you to each individual category. The image above shows Movies & TV Shows, but you can continue to scroll down and see Live TV, Tools, etc.
Stream and Tech NOW Unlinked Store
There is currently no pin required and you can access the store using 3 different pins. 1 being the original Filelinked code and then 2 others also.
Stream and Tech NOW Unlinked code:
51829986
44444444
streamtechnow
When entering any of the above to a library, it will give you access to the same huge store shown above.
Will It Be Unlinked Only?
What we need to consider is an app of this size will take a lot of time and work to maintain with updates and adding any additional downloads. To do this with more than one store would be a big ask and I can't really see it happening. So it looks highly unlikely that we'll see a store created on FileSynced or Applinked also.
However, there are plenty of other codes you can use for those alternative apps which you can find on out ultimate store codes list!
If you are looking to install Unlinked on your device, we have a dedicated post to help you do that. Alternatively you can follow the video above and this will also show you how to install Unlinked on Firestick or Android TV boxes. The Unlinked download is available from our downloads section, so feel free to try it out for yourself.