Unique Blogs
Downloader Not Working On Firestick / Fire TV Devices
So many are coming across the issue of Downloader not working on Firestick / Fire TV Devices. But there are a few simple fixes that will get it working perfectly. Fixes and guides will follow.
Downloader
Downloader is by far a must when it comes to loading third party apps onto Firestick, Fire TV, Fire TV Cube etc. it's a simple web browser which allows you to download and install apps direct from websites. But the more Downloader is used, the more people start to come across problems. So today we will fix all issues you may be experiencing with Downloader Not Working properly.
Fix Downloader Not Working
We will leave a video further down the post which you may find more helpful!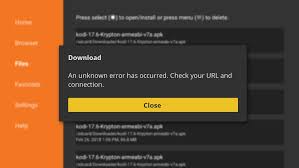 A very common problem users experience is "An unknown error has occured. Check your URL and connection". This error is usually because you haven't allowed Downloader permissions when first launching the app.
Allow Permissions
Settings
applications
Manage installed applications
Find Downloader and click it
Now Clear Data
When launching Downloader again make sure to Allow Permissions
Enable JavaScript
Another problem can be JavaScript isn't enabled in Downloader.
Launch Downloader
Go to settings on the left hand side
You will see JavaScript at the bottom
Click it and click OK
You will now see a ticked box to the right of JavaScript
Website Menu Not Working
People have been experiencing problems with the Hamburger Menu not opening inside Downloader. There is a pretty simple fix for this too.
When on the Website you would like to use click the 3 Line Button in the top right corner (or click the button on your Firestick Control)
Then you will see Full Screen Mode
Click it and it will show you the desktop view of the site, so now you will see the full menu.
Android Phones, Android Boxes etc
Downloader is designed more for Amazon Devices. Firestick, Fire TV, Fire TV Cube etc. If you are using an android box for instance, you will use a regular web browser like Google Chrome or Internet Explorer etc. Our favourite is Puffin TV which is a great android TV browser available in our Downloads Section.
Watch The Video Of All The Fixes!
You can find a bunch of useful apps and tools for your device in our downloads section. Tools, Media Players, apk stores and much more.